Top-Rated House Washing in Maple Grove
Are you putting your Maple Grove, MN home on the market this spring? If so, you should seriously consider a house washing service for your Maple Grove, MN home. Searching "Maple Grove house washing near me" can be overwhelming. Lucky for you, you've found the top-rated house washing company in Maple Grove, MN. We are dedicated to providing exceptional customer service and top-of-the-line house washing services. Our exterior house cleaning technicians are highly trained and experienced in providing the best house washing services possible. Our customers rate us as transparent, affordable, and reliable. You don't want anyone else working on your exterior house cleaning service but us! Give us a call today to schedule your siding washing before our books fill up for the spring!
Searching for Maple Grove House Washing Near Me?
Did you know that exterior house washing does more than increasing the curb appeal of your home? That's right! An exterior house washing service removes years of invisible and visible dirt and grime from your siding. That dirt and grime produce bacteria that can eat away at your siding. A house wash can remove that bacteria from the source and save your siding from serious damage! Why replace your siding any earlier than you have to! A siding washing service can extend the life of your siding for years!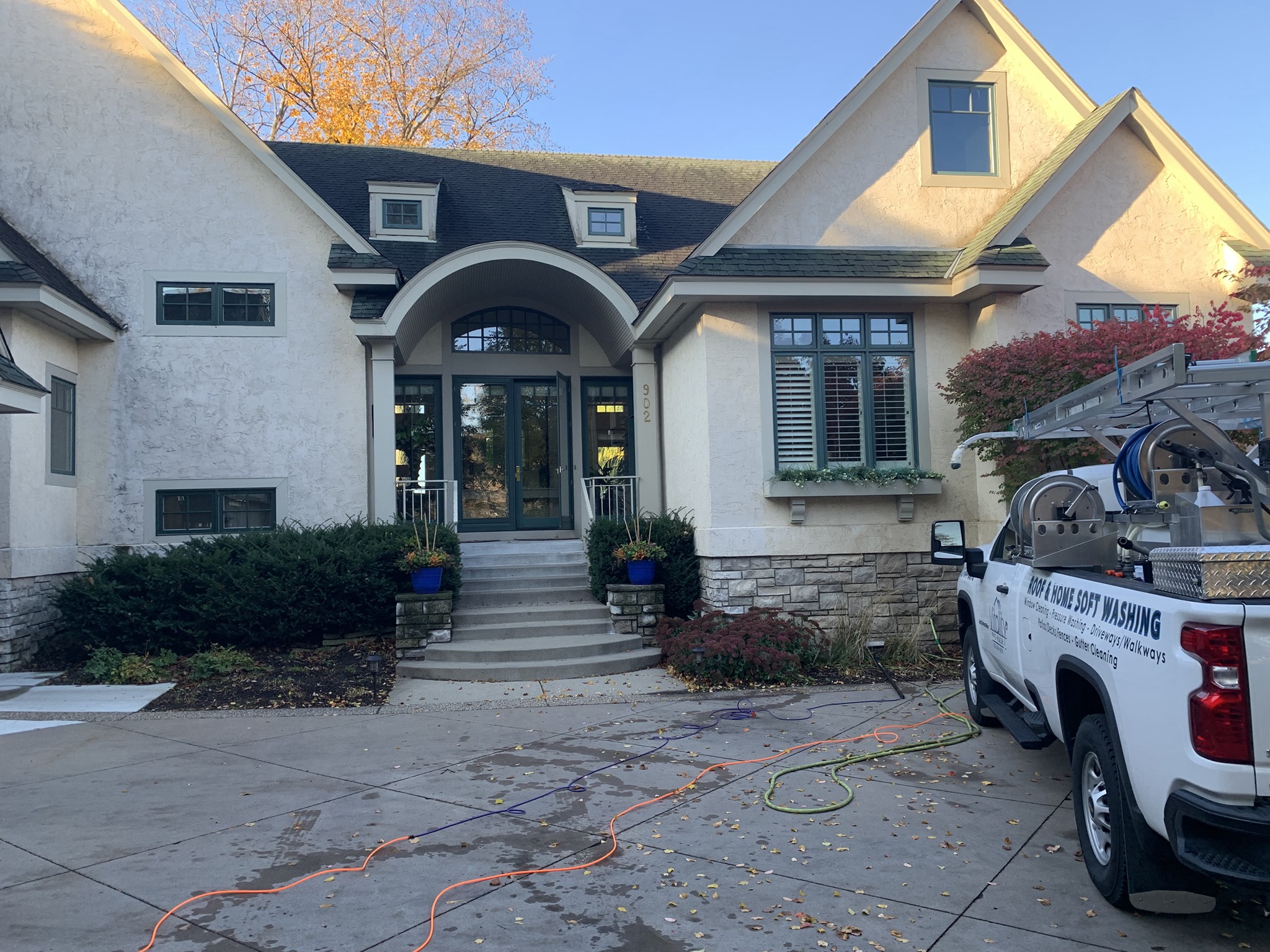 Professional Exterior House Cleaning Done Right
Our house wash technicians only use a soft wash approach to remove the dirt and grime from your home. A soft wash approach allows our technicians to remove the dirt and grime at the roots by using a lower pressure. The lower pressure protects your siding from damage. If a house washing company uses too hard of pressure on your siding, your siding may rip off. That's why you want to work with professionals in the house wash business. That's us! We've been in the industry for years and we've assisted hundreds of customers on siding washing. If you need it cleaned, it's in our wheelhouse!
Our team of siding washing professionals is in Maple Grove, MN. Maple Grove, MN is a Minneapolis suburb. Maple Grove, MN is also the eighth-largest city in Minnesota. Some of our favorite things to do in Maple Grove, MN is visiting Holy Name Park, Pomerleau Lake, Weaver Lake, Holy Name Lake, Grove Cove Aquatic, Bass Lake, Sochacki Park, Weaver Lake, Elm Creek, Becker Park, and Bassett Creek Park. We can't wait to meet all of our friends and neighbors in the Maple Grove, MN area!
Call Today for House Washing in Maple Grove, MN!
Remember our name when you're looking for superior house washing services in the Maple Grove, MN area. Did you know that working with us is practically risk-free? That's right. Our siding washing services come with a 100 percent customer satisfaction guarantee. That means if you aren't happy with the outcome of your house wash, our siding wash team will go back and make it right. You won't find a better service than our team at Vitality Pro Wash. Give our team a call today and we'll answer any questions you have about our house washing services.